Traite de Perspective a l'usage des Artistes
This is the most complete, one of the most influential and without a doubt the most beautiful book on perspective ever published.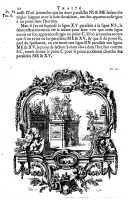 Every other page has a description of the principle being illustrated, followed by a hand engraved plate (in the original you can see the impressions the plates made on the page) to illustrate the principle.
The descriptions are in French but as you can see from the plates, each plate is drawn with such care and clarity that even a reader who does not know French can easily understand the principles illustrated.
Some of the plates are repeated so that the description of the principle and the illustration may appear consecutively because sometimes the plates illustrate two ideas, or the description exceeds the length of a page.
Underneath some of the descriptions appear other decorative engravings by P. E. Babel.
The first plates show a small human figure to demonstrate the position of the eye. Later plates show the various compexities of drawing perspective including curved figures, shadows, and reflections.
240 Pages including an 8 page table of contents, plus 8 pages of a title page and preface.
Published in 1750. Original editions can be found in prices ranging from $1000.00 to $7250.00
Edme-Sébastien Jeaurat
Edme Sebastien Jeaurat (1725-1803), was a French architect and Royal engineer-geographer. His course on perspective was the standard text book in France in the 18th century.
An astronomer, and the son of an engraver, Jeaurat demonstrated talent for drawing, but also mathematics. In 1746, he won a prize drawing of the Academy of painting.
In 1749 as and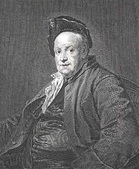 engineer and geographer to the King he prepared the large map of France.
In 1750, he wrote a treatise on perspective. In 1753 he became a professor of mathematics at the Military Academy. In the same year he is appointed to the Academy of Sciences. Jeaurat made calculations on the movements of planets, and observed the comets of 1759 and 1760.
Many of his writings are related to astronomy, they appeared in the Collection of foreign scholars (1763) and the memoirs of the Academy of Sciences Pars (1763-88). Jeaurat also wrote twelve volumes of knowledge of time. He died in 1803 in Paris.
DOWNLOAD THE E-BOOK Traite de Perspective a l'usage des Artistes
240 Pages - 8 Page Table of Contents - An 8 page Preface - Almost every other page features a engraving illustrating a principle of perspective drawing. $14.95
From 1750, Contemporary sprinkled calf, ribbed, gilt spine. An allegorical woodcut vignette on title, 2 fine designed and engraved perspectival headpieces by P. Soubeyran, 72 large allegorical and perspectival tailpieces by P. E. Babel, incl. one full-page, and 150 elaborate perspective designs on 100 fine engraved plates, with 19 plates repeated once.
34 problems and 116 lessons about drawing in perspective and projection of the most intricate figures.
DOWNLOAD THE E-BOOK Buy now with Paypal.

If you are new to PayPal you will be directed to a PayPal sign up page or you will be allowed to pay directly by credit card.
At the end of the process you will see a button like this: (If you click it now it will take you to the home page.)
Please be sure to click that button because it will return you to a specific page on this site so you can get information on how to download your book. If you experience any difficulties email me and I will send you the link: lifedraw2005@yahoo.com


You will need Adobe Acrobat Reader (c) to view the PDF file.

If you do not have a copy of Adobe Acrobat Reader you may download a free copy of the latest version here:
Acrobat Reader Download Site
If you experience any trouble downloading the e-book please click on this link: Detailed Download Instructions
If you are still experiencing trouble email me at:lifedraw2005@yahoo.com and I will contact you to help with the download or email you the file.

This e-book and the images in it are believed to be in the public domain based on their age and publishing date. If you have information to the contrary please email me: lifedraw2005@yahoo.com
---